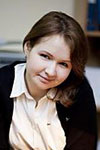 Gladkova, Anna A.
Ph.D

Senior Researcher, Faculty of Journalism, Lomonosov Moscow State University, Moscow, Russia
Psychological and socio-cultural adaptation of international journalism students in Russia: The role of communication skills in the adaptation process.

Background. The study of both Russian and international publications issued in the last twenty years revealed a significant gap in the number of studies examining adaptation (general living, psychological, socio-cultural, etc.) in general, i.e., without regard to specific characteristics of the audience, and those describing adaptation of a particular group of people (specific age, ethnic, professional groups, etc.).

Objective. The current paper aims to overcome this gap by offering a closer look at the adaptation processes of international journalism students at Russian universities, in particular, their psychological and socio-cultural types of adaptation. The question that interests us the most is how psychological and socio-cultural adaptation of international journalists to-be can be made easier and whether communication-oriented techniques can somehow facilitate this process.

Design. In this paper, we provide an overview of current research analyzing adaptation from different angles, which is essential for creating a context for further narrower studies.

Results. We discuss adaptation of journalism students in Russia, suggesting ways to make their adaptation in a host country easier and arguing that the development of communication skills can be important for successful adaptation to new living and learning conditions.

Conclusion. We argue that there is a need for more detailed, narrow-focused research discussing the specifics of adaptation of different groups of people to a new environment (since we believe different people tend to adapt to new conditions in different ways) as well as research outlining the role of communication competences in their adaptation processes.

DOI: 10.11621/pir.2017.0405

Keywords: psychological and socio-cultural adaptation, international students, journalism, communication skills, communication competence

Examining the public's exposure to reports about ethnic groups in mainstream Russian media.

This article examines the exposure of Russian public to reports about ethnic groups in current mainstream Russian media by analyzing the amount of such reports today, as well as results of an online survey (n = 1040) aimed at revealing to what extent the public is indeed exposed to them by the respondents' own estimations. The survey showed that generally users tend to lack information about ethnicities in mainstream media and demonstrate a certain interest in learning more about other ethnic groups in Russia through media channels. We argue thus that the public's exposure to information about ethnic issues, although relatively high on a quantitative level (i.e., in terms of the actual number of reports), is lower on a qualitative one (i.e., the share of the respondents who actually come across such reports). The paper also reveals a number of tendencies from analyzing users' age groups and their regions of living. In general, we believe that singling out both specifics of the public's exposure to information about ethnicities and the connection between this exposure and the public's attitudes toward ethnicities (which is planned as the second stage of the current research project) may contribute to better understanding of the effects media can have on their audience in terms of agenda-setting and psychological influence. The current research can also be of interest when discussing the role mass media play in building harmonious relationships between representatives of different ethnic groups in a multiethnic society such as the Russian one.

DOI: 10.11621/pir.2016.0112

Keywords: exposure, ethnic groups, mainstream media, audience, Russia

The role of television in cultivating the values of pluralism and cultural diversity in children.

This article examines the influence of the mass media and in particular television on the development of the values of pluralism and cultural diversity in children. The role of television is quite important in forming positive attitudes toward cultural, ethnic, and other groups and in inculcating an adequate perception of social reality and tolerant, multicultural awareness. The article also analyzes the functions and principles of public broadcasting, among which diversity of programming is one of the most significant.

DOI: 10.11621/pir.2013.0113

Keywords: pluralism, tolerance, multicultural awareness, diversity, public television, set of values.