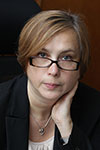 Smirnova, Olga V.
Ph.D

Associate Professor, Head of the Chair of Periodical Press, Faculty of Journalism, Lomonosov Moscow State University, Moscow, Russia
Women's advancement in journalism: psychological characteristics.

The feminization of journalism, a process taking place in numerous countries worldwide, has been advancing at a much higher rate in Russia than elsewhere. This trend is based on both global and specifically Russian factors. The gradual migration of journalism from being a typically male profession to being a predominantly female one brings about a number of inner transformations and creates a certain inner psychological climate. To fully understand these changes, researchers should set new goals for their studies based on an analysis of gender transformations in journalism and on investigations of possible problems and conflicts entailed in the process.

DOI: 10.11621/pir.2013.0111

Keywords: journalism, feminization of journalism, women's promotion strategies, psychological characteristics.