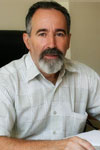 Akopov, G.V.
professor
doctor in Psychology

Member of the Presidium RPS, chairman of the Samara Regional Department of RP.
Samara State Pedagogical University Samara

Consciousness as a Central Problem of Modern Psychology

The special status of the theme of consciousness in modern science is caused by a number of circumstances: considerable growth of scientific papers in the last quarter of XX and the beginning of XXI centuries, transition of modern society from the postindustrial phase to the informative, and also by the newest philosophy, new scientific ideology, ideas of postmodernism, etc.; there appeared such new integrated fields of knowledge as neuroscience, cognitive science, science of consciousness.

DOI: 10.11621/pir.2011.0001

Keywords: modern psychology, consciousness, science, ideology.