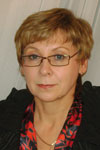 Mirolyubova, Galina S.
docent
Ph.D in Psychology

First Russian President B.N. Yeltsyn Ural Federal University,
Yekaterinburg, Russia
Subjective Preferences of Criterion-Oriented Support of Professional Activities of Managers.

This article deals with the results of a pilot research of a subjective system of activity criteria represented in professional experience of business managers from the Ural region. The authors investigate the question of changes in an individual criterionoriented system of assessing effectiveness of activities depending on a subject's professional experience and his/her position. The cluster analysis helped to single out groups of criteria that underwent a preliminary quantitative and qualitative analysis. A complex interdisciplinary approach was used in this research.

DOI: 10.11621/pir.2012.0022

Keywords: professional experience, a criterion-oriented support of professional activities of managers; assessment of professional activities effectiveness.