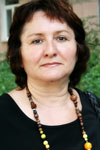 Akopyan, L.S.
docent
doctor in Psychology

Samara State Academy of Social Sciences and Humanities
Samara, Russia
Conceptual Bases of Research of a Verbal and Nonverbal Pattern of Children's Fears.

The article presents the results of theoretical and experimental research on emotional states, in particular, on fears that worry young school-aged children. The approach used to study this phenomenon comprises quantitatively-qualitative, frequency-intensive, existential, micro- and macro surrounding, moral and selfregulation dimensions. Substantial characteristics of children's fears, self-control of young school-aged children, and ways of coping with fears in various conditions of social situations of development are considered. The studied spectrum of emotions young school-aged children experience in everyday situations (at home, at school, during their leisure time) is described. Study on verbal and nonverbal patterns of fears of young school-aged children is presented. The original structural questionnaire developed by the author and the picturesque test composed the research apparatus. In a majority of drawings children tend to "counterbalance" the image of their fear with some additional images containing positive elements (positive plot). This finding confirms the assumption previously made by the author of the immanent nature of self-regulating processes that regulate coping with fear.

DOI: 10.11621/pir.2012.0028

Keywords: emotional states, living conditions of young school-aged children, children's drawings, fear, depicting fears, the verbal and nonverbal content of fears, methods of coping.